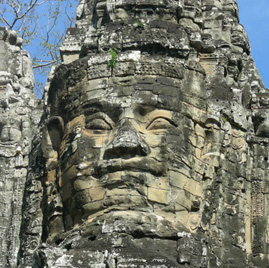 Karen's Perspective on Traveling Alone






















Jaguars and Manu Biosphere Reserve and National Park
The two boatmen called out "Jaguars!" and there were two amazingly large and fleeting cats on the side of the Madre de Dios river, here in Manu Biosphere Reserve and National Park, a pristine rain forest northeast of Cuzco that drains into the Amazon basin. I had opted for the 9 day trek with Manu Expeditions, the oldest and well-respected outfitter. You can't enter the biosphere legally without a guide and why would you as it's as remote as anywhere I have ever traveled on the planet. I had harbored a dream of visiting Manu for 5 years, ever since a Peruvian photographer had told me of being lost in its midst for 8 days. He barely made it out alive and the experience had been transformative. For 6 days I shared the journey with an older North American couple and had an extra 3 days afterwards with our guide Danny Vargas to do some extra intensive birding. We stayed in comfortable lodges and the boat rides were long on a couple of days but the seats on the launches were almost like airplane chairs and even reclined. We traveled with our boatmen Rambo and Negrito, both from the little river village of Atalaya as well as a cook named Aurelio. Besides all the flora and fauna that Manu supports, Danny explained that there were "untouched tribes" inside Manu and he had actually had 2 friends who were anthropologists who had been killed by the tribes.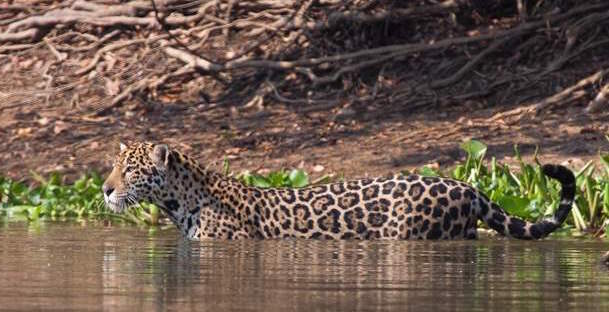 We made our way from Cuzco along a paved and occasionally dirt road and stopped to do some excellent birding, with the most impressive find for me being the giant hummingbird. At 8 1/2 inches, it's mind blowing that it can hover and eat so many calories from nectar, just like all hummingbirds. As we descended into the cloud forest we also sighted a blue banded toucanet near a waterfall and our cook heard a golden-headed quetzal which we were all lucky enough to see. I enjoyed how the whole gang would be looking for unusual birds and animals throughout the trip and later when I was the first to spot the broad billed motmot I felt a bit of pride. I had bought some pretty decent binoculars for the trip including a harness that I wore on my back and that kept me from getting a sore neck when I spent long stretches looking up into the forest canopy. Just as we were getting near to our first day's lodge, there was a small landslide on the road along a sheer drop off. The road was plenty wide for our vehicle and our driver got a running start but soon our wheels were spinning in the gravel. He ordered us all out while he and others shoveled rocks and large sticks under the tires. He backed way up and got a good velocity, then cleared the landslide and we were soon descending to see the most unusual bird display of the day, that of 5 cock of the rocks who are shockingly red and come out near dusk in a particular bird blind close to our night's lodge for a mating display. Apparently, these are birds who like to have a lot of sex and it was akin to seeing a sex worker all dressed up in red, strutting and working it. I had only seen it one other time outside my hotel in Aguas Calientes near Machu Picchu.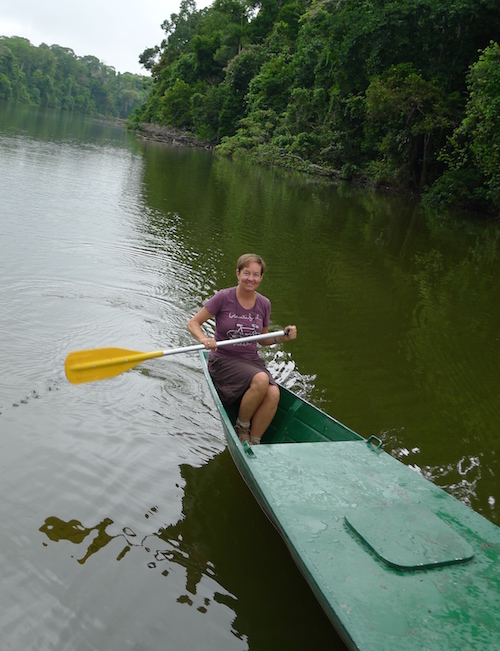 The next day we arrived at Alto Madre de Dios river where the crew transferred all our gear (even sheets and blankets) and food for the next 5 days to our boat. The air was now humid and somewhat hot but the breeze from the boat was blissful and I was enchanted with the cocoi herons, orinoco geese (one of Danny's faves) and even a caiman spotting. We pulled over to the shore where the caiman was lying in the sun and it moved slowly into the water with its beady eyes and powerful jaws. The next day we stopped at a ranger station to register and hear about the regulations of the park and I was happy to see a woman ranger doing her job. When we would return 2 days later, there would be a few boats of young men waiting here to extract the valuable logs (including mahogany) that were floating down the river but they had to stay outside the park's boundary to do so legally. It would rain so hard one afternoon and night that the river's rise caused 3 boats to become untethered near the Manu Wildlife Center. Danny reported that the owners recovered the boats but lost 2 engines. He noted that our boat crew would go out every 2-3 hours during the night to check on the boats and that Rambo liked to actually sleep on the boat as a prevention.

Lowland Tapir and Baby Sighting and Clay Licks
Highlights of this area of Manu included Concha Salvador, an oxbow lake formed when the river changed course. We floated on a catamaran supplied by the park and I enjoyed paddling a bit as we took in the species of the lake-lots of hoatzin with their prehistoric look, amazon and ringed kingfishers, wattled jacana, horned screamers and so many more species. Every night after dinner, Danny would go over the checklist for the birds and animals we had seen that day. The list got longer and longer with over 150 species by the end. This was very much intermediate birding, much like a 10 day birding trip I took years ago in Uganda. It was too much for my brain to absorb in too short a time but I relished the sightings, the bizarre and beautiful sound track, and the discipline and attentiveness that intensive birding requires. 

After 2 days it was time to boat downstream for 6 hours to the crown jewel of the trip, the Manu Wildlife Center where an enormous wooden lodge with a dining room, bar, hammocks and lounge chairs awaited. In all the jungle lodges, there are no glass windows but instead screens on all the openings in an effort to create cross breezes and bring the outside as close as possible. The sights and sounds of the jungle are omnipresent and only a longer stay like the one I was experiencing could help one adjust to the rhythms of the day and night. At night we entered the candle lit lodge and it was like entering a sanctuary to enjoy a meal together before a sound sleep and typically a 5am start. We climbed and climbed some more up to the top of a spiral staircase and up to a canopy platform. We were high up and the perspective of watching birds here, especially the parrots, was stunning. Perhaps my favorite moment of the rain forest trip was the Blanquillo Macaw Clay Lick. This is truly one of the world's great wildlife spectacles as hundreds of parrots and their larger relatives, the macaws, congregate at this traditional locality to eat the mineral rich clay that is essential to their digestion. The boatmen had brought our breakfast to the blind and  we waited and watched for almost 2 hours before the first brave souls made their way to the lick. Others soon followed and it was like watching the Discovery Channel, only I was experiencing it in the flesh. I was mesmerized and then suddenly it was over in maybe 15 minutes with the macaws sensing a predator or maybe just having their fill.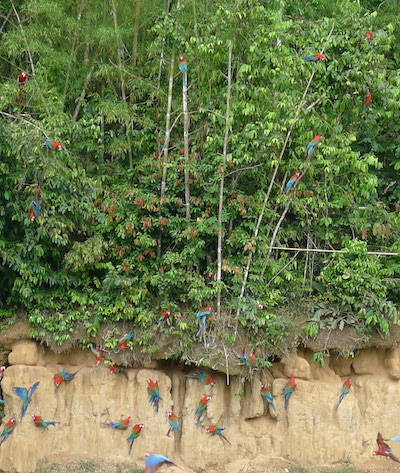 Back to Cuzco
The trip back to Cuzco took us 11 hours, going by boat first to Boca Colorado, a frontier gold rush town, transferring in a local car to the Inambari River for a short crossing and then and up and over the eastern Andes with their glaciers and alpaca to arrive in Cuzco. In Boca Colorado we enjoyed a frozen coconut concoction that we slurped out of a plastic bag for 1 sole (30 cents) each. Along the way I insisted to the driver that we pick up a couple of older Andean women  in their native costumes who were hitchhiking for short stretches. They both offered money for the rides and Danny said it's an Andean custom to always trade or offer payment. Between mine and Danny's ipod, we listened to Mercedes Sosa, Cuban salsa and contemporary cumbias while we scratched our bug bites.

Sacred Valley and Incan Ruins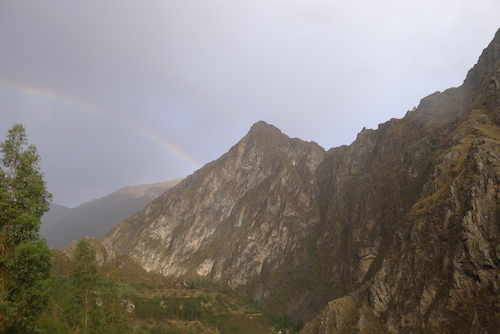 Since I had trekked to Machu Picchu in 2011, I decided to skip it, along with the crowds and expense and stay in the nearby Sacred Valley. I had previously spent a couple of nights at Apu Lodge in Ollantaytambo and it was refreshing to come back for a stay and see that it was thriving and had added gourmet meals cooked by a chef originally from New York. His alpaca lasagna was one of the best meals of my stay in Peru. I was feeling the tug of Machu Picchu but instead got my fix by reading Turn Right at Machu Picchu while I waited out a rainy morning. The rain hadn't stopped me completely though as I took a cab up to Punamarca, a fairly remote Incan ruin and then walked down. After my time in the jungle, the altitude here was no joke, even with the coca tea. I met up on the trail with an American woman who had ridden a horse up and was now heading back done. We were delighted to see a rainbow through the mist and I realized I hardly ever see those in the Bay Area since there is rarely enough moisture in the air. I love the little town of "Ollanta" as the locals call it with its pretty town square, even if the tour buses going to catch the train to Macchu Picchu break up the quiet repose both early morning and night. Luckily, Apu Lodge has a superb location on the edge of town, and from my 2nd story balcony I had a perfect view towards the Inca ruin that is the hallmark of the town.

After a terrific tour in Spanish by a local guide at the Ollantaytambo ruins, I headed to an upscale bed and breakfast call The Green House in Huáran run by an expat from the U.S. named Kelley. Kelley is an amiable host and she and her mom bought this 4 bedroom guest house a couple of years ago. Even though the location is a bit isolated, she and her staff make great breakfasts and dinners and it's a convenient location to explore the exceptional ruins of Chincero and Pisac. The garden here has a sensational view of the Andes as well as gorgeous flowers that attract various birds, including the giant hummingbird. I took the public vans around the Sacred Valley and, as always, I enjoyed seeing how the locals live. On my way up to Chincero, 3 kids with the oldest being around 10 climbed on board and no one gave them a second look. It's a bit dangerous to make generalizations based on a month anywhere but my observations about Peruvians are the following: they are darn industrious, helpful and friendly. Even though I saw a few drunk men on the weekends, most Peruvians, even the rural children, are busy doing something like making clay bricks, weeding gardens and fields or cooking their delicious food. Unlike many poor countries where I have traveled, folks here are not into pressure sales techniques which results in travelers like me enjoying the markets and shopping. I'm not sure why the cultural difference but there is a characteristic I sense comes from a place of dignity and a sense of their pride in their ancestral civilizations. Physically, most Peruvians are rather short with powerful torsos and lungs, especially in the Andean mountain communities. I witnessed ancient looking women lifting enormous bundles onto their shoulders and and backs. Mothers also often carry their young on their backs wrapped up in a bundle.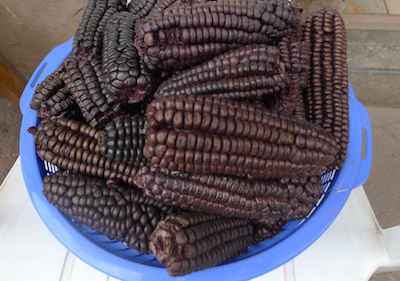 I had printed out instructions from the internet for how to climb down from Chincero to the Rio Urubamba at Urquillos. I was a bit uncertain if the path would be easy to follow but I needn't have worried as the trail is now marked with a sign at the beginning and the Incans did not mess around when laying out their broad wide paths, some with rock walls over 500 years old. It's about 5 1/2 miles and I descended from 12,200 feet to 9430 feet so was glad I had my walking poles. The canyon is peaceful and beautiful--lots of rushing water, colorful wildflowers, parrots flying overhead, and tranquil eucalyptus groves. I met a group of Spanish students from Cuzco with their maestras and they were headed to a waterfall but it was quite a detour and by the end of the walk I was glad I had decided to skip it, especially since there was no public transport (or cab) from Urquillos and I had to just keep walking to the highway. But not before I had the eerie sensation of stumbling on an enormous hotel construction in the poor village. I asked a couple of neighborhood kids who were wearing tattered clothes and they assured me that it was a 5 star hotel. I took a photo of the sign at the entrance of the site, warning contractors "to be careful with archaeological monuments." I took a cab up to the top of Pisac, perhaps the most impressive of all the Incan ruins in the valley. Because I arrived late, there were only a few folks climbing the perches that afford such incredible views. There was no guide to be found but according to my driver, the Rio Urubamba was much bigger during the Incan civilization so building agricultural terraces and also villages higher up makes sense. And at least in the case of Ollanta, being high up afforded a good defensive position as the Spanish tried to rout the ruler Atalhuapa. I explored the ceremonial center in the ruins of Pisac, a citadel on cliff hugging paths including a small tunnel to reach the intihuatana, literally "hitching post of the sun" which the Incans used as an astrological tool. This dominating site guards not only the Urubamba Valley but the NE pass to the jungle that we had taken earlier in the trip.

Arequipa
I took a flight south to Arequipa, the second largest city behind Lima. The day was clear and I marveled at seeing the 3 dramatic volcanoes that surround this deserty and dry colonial city. I was visiting right before the rainy season but snow still sat up top of Chanchani and the Rio Chili ran through the middle of the town, close to the quaint colonial area and sizable Plaza de las Armas. OK, I admit it, Arequipa is the place in Peru where I began to fantasize living for a short while. The people are friendly, the streets are clean, the guesthouses are cheap, there is amazing food and at least 2 international bookstores, many small colleges, cooking schools, outdoor trekking outfitters, yoga studios and even a regional library dedicated to Peru's most famous living author, Mario Vargas Llosa. The only drawback is a lack of live music venues and the sometimes crazy traffic (and frequent earthquakes) but no place is perfect. I only saw a couple of folks brave riding bikes. Most of the old buildings are made from a magnificent local white stone called "sillar" and that helps the appearance that this place is always spiffed up. My best meal of the trip was at Chicha, a restaurant by the world-renowned chef Gaston Acurio. I ordered the "rocoto relleno de camarones" and was rewarded with a spicy stuffed pepper filled with creamy river shrimp and potatoes. I was seated in an elegant but casual courtyard with an open kitchen behind glass. Inside were more formal rooms with white linen tablecloths and a mix of tourists and locals were enjoying this "celeb" spot. Throughout Peru, I had enjoyed a variety of food, from carefully planned menus in guest houses and lodges to some street food called "antichuchos," basic grilled meats on a stick. Green Point in Cuzco served a three course vegan meal to mostly backpackers for $3. The ubiquitos "chicha morada," a tasty drink made up of purple corn became my go to energy booster. And luckily, unlike most other international trips of this length, I only experienced a two hour stomach bug.

Cabanaconde and Cañon de Colca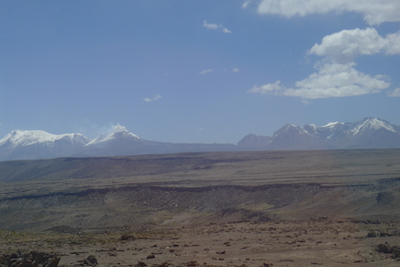 Like many travelers in Arequipa, I had come here on my way Cañon de Colca, the second deepest canyon in the world and twice as deep as the Grand Canyon. Unlike, the Grand Canyon though, I didn't have to reserve a place to stay on the top or the bottom 6 months in advance and then feel lucky that I had gotten a reservation. I was taking the public bus to the end of the line, Cabanaconde, a small and tranquil village that lies 7 hours over a somewhat treacherous road through valleys and pampas. I spent a lot of time chatting with a delightful Peruvian family with the husband living and working in Spain while his wife lived in Peru. Their daughters were curious about the gringa who could speak Spanish and I had them telling me Peruvian folklore stories as well as about Juanita, the Ice Maiden whose frozen body I would make my own pilgrimage to. We started seeing herds of  alpaca and soon even vicuña, a gazelle like animal, once very endangered but now protected by local residents. Local herders had constructed corrals made of stones to raise alpaca and they dotted the pampas. Smoking volcanoes dominated the horizon in the west. This was my longest bus ride of the trip and I enjoyed the varied scenery plus the company of my fellow hardy backpackers plus some Peruvians who dropped off at towns and villages along the way, many of the women wearing unusual hats, one a shimmering white top hat with glitter and a festive design.

When I arrived in Cabanaconde, I was happy to go to the best hotel in town, Kuntur Wassi and pay $40 for a three star stay. The only other boarder was John, a reporter for the Wall Street Journal who was in the country to cover a mining story and added a few days to relax. His limp told me everything I needed to know. He had decided to climb both down to the Oasis and then back up again in the same day. Even though he was a long distance bicyclist, the climb up had "kicked his butt," as he so duly noted. I was taking suggestions from lots of folks on exactly what route I should take in the canyon. I met a former guide who suggested that since I had 4 nights I should do a loop, staying in a different location each night. I took his suggestions seriously but knew in the back of my head that I would probably do quite a shorter stint.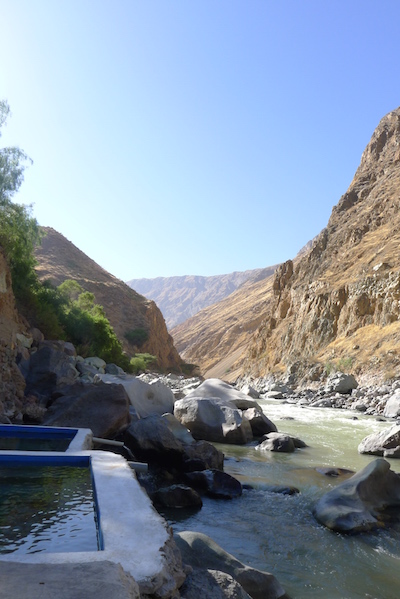 I began my 3300 feet hike down from Cabanaconde to the bottom of the canyon with only a daypack stuffed with the essentials for 4 days, wearing my tried and true hiking boots, carrying lots of water and my poles. My plan was to reach Llahuar, famously home to some hot springs and then get to Sangalle (The Oasis) where most folks on short tours descended, spent one night, and hiked back up. I was enjoying hiking by myself with a clear day, starting from the top at 12,000 feet. The terrain here was remarkedly dry, now that I had left the neatly terraced and luxuriously green fields of corn and potatoes. After a couple of hours, a group of three young men passed me, the only hikers I would see all day going down. I would pass them once more as they rested but then they passed awhile afterwards and now I was on my own. The temperature began to climb and the the switchbacks seemed to get steeper and steeper with more rocks to navigate. I tripped and told myself to slow down. If I sprained my ankle now, there would likely be no one coming behind me. I started to feel light-headed and sat down on a rock, put my head close to my knees, drank more water and then ate a pear-like fruit I had saved from that morning's breakfast. I remembered other hikes where I had felt this tired plus reassured myself that my own father, at an age older than me, had climbed down and up the Grand Canyon plus Mt Kilamanjaro. If it got really bad I would put my ipod on and listen to some salsa music to distract me. I wanted to take some photos but just the energy that would take seemed too much. I wanted to get rid of the weight of my daypack. Finally I struggled to get going. If I really couldn't make it to the hot springs I could just take whatever bus or car I saw on the road below which didn't look more than an hour away. After perhaps two hours, I got to the road, consulting my map and deciding it couldn't be more than an hour now to the hot springs. I collapsed in some welcome shade along the road, rousing myself when I heard a van coming. I stopped the driver and asked where he was headed. When he told me Cabanaconde, from where I had come with such effort, I waved him on. 

I was crossing the Rio Colca now along a newer bridge. It was a welcome sight of water and the promise it held. A small geyser was located near the bridge but from the look of the map it would be a 20 minute detour. Skip that and now put on the ipod with some Latin grooves by Ricardo Lemvo to kick me through the last hour. I knew I would make it now and a wave of relief swept over me. This would make for a good story and I could add it to my list of the 10 hardest hikes ever. Gingerly going through that list reminded me that even at 56 years old, I was a pretty experienced and tough cookie. I walked through the last village where my map assured me that folks would be selling cold water. I didn't see a single soul, except for a sleeping dog. Good thing I still had plenty of water as I reached the final descent over a creaky bridge. Backpackers were frolicking off huge rocks in the water and the scene reminded me of the south fork of the Yuba River. A rustic guesthouse with vegetarian food was a good deal at $10 a night. I was shown to my guest room, simply made of bamboo sticks tied together but no matter, it had a comfy bed where I would sleep like a log. It had taken me almost 6 and 1/2 hours to hike 8 miles, perhaps a new personal record, and now it was time to put on my swimsuit (how I wished I could be nude) and check out the hot springs. The two English men and one Australian welcomed me with a note of respect. One mentioned than he wished his mom would do a hike like that. I was submerged into one of the two concrete pools with the temperature at around my preferred 104 degrees. We were right at the edge of the river and I noted a black crowned night heron on the banks.

At dinner about 15 folks congregated for the nightly ritual of pisco sours and camraderie. I was invited by the young men I came to call The Fearsome Threesome to join their table and told them I was their den mother. They had not known each other and met up in Arequipa to share the road and reduce their expenses. The next morning I had the pools all to myself. All the hikers had moved on except for the Fearsome Threesome who were sleeping in after a late night in the baths. I couldn't imagine making myself hike that day but surprisingly I wasn't sore at all. The hot water and a deep sleep had worked a miracle and I felt completely revived. I spent the day reading and relaxing, walking down to the big boulders by the bridge in the afternoon and watching new folks come in, looking haggard but no one seemingly as tired as I had been. There was the group of Israelis, exploring Latin America in a time honored tradition after their military service. Then came a couple of Spaniards, perhaps in their 50's and fit as all hell. Next was the French couple whom I would see later at the Oasis and last, a group of 3 kiwis and 2 Belgians. All reported seeing condors on the trail, circling overhead and casting large shadows. I felt envious as I had seen no condors so far and I knew that only 30 or so soared this part of the canyon. After dinner, I asked Marta to crank up the salsa and Cam (the 26 year old Australian) and I danced, he trying out his newly acquired skills from classes he had taken in Colombia, me feeling the joy of grooving to moves I had been making for decades.

Later we headed to the baths, to soak in its healing waters and marvel at the black velvet night overhead laden with stars. I knew this would be one of those nights I would tuck away in my memory, on the top 5 list of best hot springs ever. The next morning I was up and out early to catch the bus to Malata and then walk down to Sangalle. I was rewarded with a great view of a male and female torrent duck, diving into the raging water, going under and reappearing to dry out on a rock. I was up to the road and looking for condors when the Spanish couple joined me and patiently pointed out a condor high up and resting on a wall platform. I had seen one! And soon there were two soaring, black cutouts against the blue sky. Close by, a variable hawk (or at least my best guess) hovered for minutes overhead, much like a kite in CA would do. Even taking the bus to Malata was hard, the bus stopping at moments, its clutch sounding for all the world like it would give out. Now it was an hour downhill to Sangalle with its green palm trees an amazing contrast to the brown of the surrounding landscape. I found a popular guesthouse where dozens of guests lounged around the cold water pool. These were group tours with most folks segregating themselves by nationality. No other North Americans (all good) but I already missed the instant friendships and laughter of Llahuar. Older men with cowboy hats ran Paraiso de Palmeras and they were kind and funny. When I asked if they could cook me some meat, one asked if I liked grilled condor!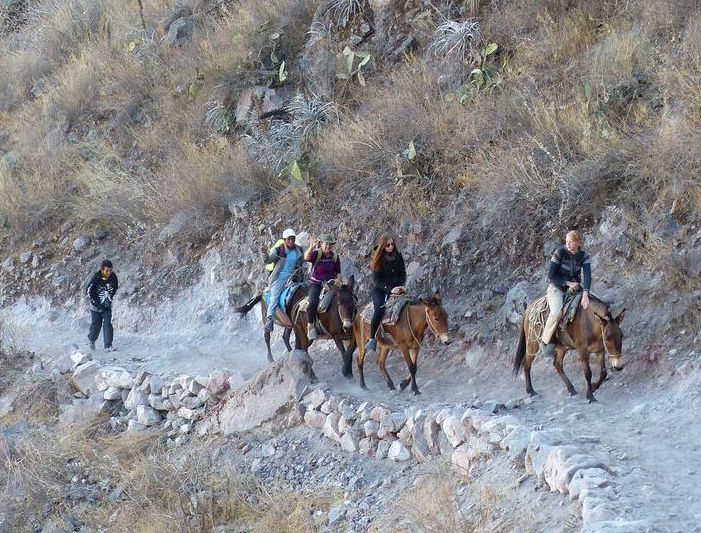 I had seen the trail up to Cabanaconde from Sangalle, a rigorous looking path that looked like the backside of a rattlesnake. I inquired about the possibility of taking a mule and gladly forked over the $25. The next morning at 6am our muletrain left, with the driver right behind me, talking on his cell phone about a friend with cancer while alternating yelling at the mules with a loud "mula" and an occasional slap of his lariat. Riding a mule is not something I'm sure I've ever done and mine would repeatedly get close to the one ahead, raising the prospect of an accident. But as the woman in front of me was more than a bit nervous, I assured her that these mules were bred for just this kind of load, convincing myself in the process. We were passing hikers along the way, pushing them to the canyon walls as we passed and they looked tired and occasionally a bit put out. Yes, once again, I had made a great decision to lighten the load "by any means necessary." I walked the short distance to Cabanaconde through the lush agricultural fields and found a great breakfast spot called Casa de Santiago, as I entered town. Two hikers were resting in the hammocks in a spacious garden and I could see the cozy and modern rooms with their doors open. Yes they had a room and it would be $12 a night.  Amazingly, I was the only guest that night and I enjoyed seeing the aptly named "oasis hummingbird" as I too rested in the hammocks. 

Saturday night in Cabanaconde and I heard the sounds of live music. I had been searching for some live music throughout my stay with little result and now here was a parade with women and children in native dress, plus a contingent of men playing drums and a brass section. The tune was monotonous as the group marched around the plaza. After perhaps an hour I was outside having an antichucho when the procession entered the local Catholic church and proceeded to light candles and raise a platform covered with flowers and palm leaves. On the top was a the picture of a virgen and a local woman informed me that she was the Virgen of " something" dedicated to music, hence the live band. Around 6 men now carried the platform around the plaza once again, setting it down and then setting some large rolled up brush on fire in the middle of the street. Circles of 20-30 townspeople formed to dance to the brass band and seeing no other tourists, I decided to try my chances and break in. Two women parted to take my hands and I was dancing and trying to follow the steps, close to a Jewish hora, but not quite. I never got the steps down but no matter, I was enjoying the spontaneity that traveling with openness to the moment rewards.

Chivay and Back to Arequipa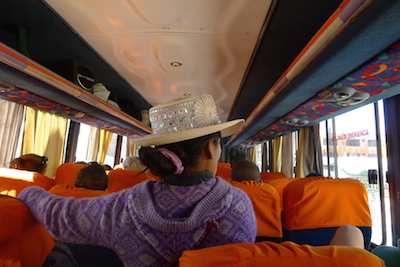 The next morning I awoke to the same band perhaps playing the very same song. Did they play all night (unlikely) or just get up early and begin anew? I took the bus about 3 hours toward Arequipa and got off at Chivay, the largest town in the Cañon de Colca area. After a buffet lunch filled with an Italian tour group, I walked the 3 miles to the famous La Calera hot springs, a massive complex of 5 large pools where "tourists," even Peruvians from outside Chivay, have their own enormous pool and can relax with views of the much shallower canyon. I chatted with a Peruvian family with 2 young adults, quizzing them in English. A zipline goes overhead and occasionally we could hear the swish and yelps of someone zipping across. I took a public van the next day back to Arequipa, marveling at the landscapes once again and tipping the driver to stop and let me take some photos of the vicuña who were eating close to the road. I stayed in Casa Melgar, a colonial mansion from the 1700's and made my pilgrimage to see Juanita, the Ice Maiden, the frozen mummy remains of a 12-14 year old girl sacrificed to the mountain gods in the 1450's. Her perfectly preserved body was found by archeologists in 1995 and seeing her in a glass refrigerated case with low light is a macabre but worthwhile experience. The museum where she is stored (along with other Incan artifacts) has guides and a video that create a dramatic buildup to the viewing. 

My trip was coming to an end. Peru's dramatic extremes had once again captured my imagination and I had to make myself not extend my trip with the promise that I would return. Possibly muy pronto.