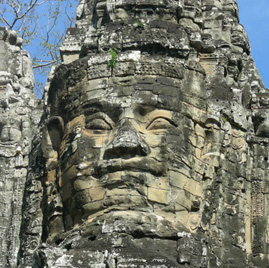 Karen's Perspective on Traveling Alone






















***"One thing in Egypt, that is, its prowess in the process of what is going to be an arduously complex and protracted transition is both its blessing and its curse: its multi-layered and pluralist society. (continued at end)

Cairo-From Tahrir Square to the Pyramids of Giza

Everyday I plan to finish this travelogue of my trip to Egypt but spend part of the day following the most recent events there with a heavy heart, thinking about my new friends and the impact that what's happening will have on the lives of the 85 million Egyptians, especially since the tourist industry has plummeted and will continue to do so. In the last 2 days, more than 75 folks died in a melee at a soccer game and two American women were kidnapped and released by tribal Bedouins, exactly in the place in Sinai where I was just three weeks ago. As the New York Times notes: "Egypt's army was once considered heroic for siding with peaceful demonstrators against Mr. Mubarak, but it has badly mishandled the country in the past year. The riot at a soccer match on Wednesday that killed around 70 people underscored the leadership's failure to undertake badly needed police reform and restore security. The economy is teetering, peaceful demonstrators have been tried in military courts, anti-Christian violence has spiked and ministers appointed by the military have hounded civil society groups that advocate government accountability, budget transparency, human rights and free elections."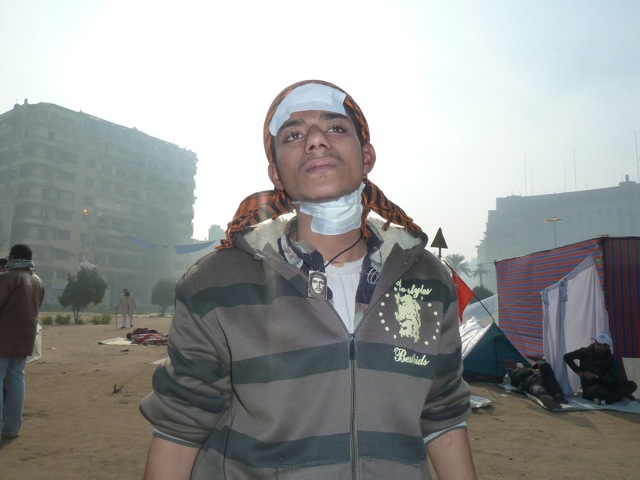 It's not that I haven't traveled in countries where lots of upheaval was taking place, the most notable being during the civil war in El Salvador in 1991 when I visited a friend there and brought some solidarity money and supplies. If you only want to travel to safe places, travel by train in Europe or maybe Hawaii.  For me travel has always been about getting out of my "safety zone," both metaphorically and physically. I don't do it to just have a good story to tell but because the places I'm interested in exploring tend to be a bit unstable.

I arrived in Egypt on December 16th and came exactly because I wanted to see what the country was like after the revolution that had more or less peacefully toppled Mubarak. I stayed at a great boutique hotel called the Talisman Hotel in the heart of downtown Cairo. It was such a shopping scene with thousands of folks in the street near my 5th floor hotel that I literally became lost one night when my taxi driver dropped me at the wrong cafe--there are 2 L'Americain cafes, one block apart. I felt like Alice in Wonderland, searching for my hotel that had literally disappeared down a rabbit hole until a man who spoke English could send me in the right direction. I spent the first day on my own, visiting Islamic and Coptic Cairo, mosques and churches with the last remaining (but not functioning) synagogue thrown in for good measure. I enjoyed taking the metro, especially since I rode in the "ladies" car, much like in India where you can avoid the stares and possible further annoyance of men by being among the local females and their children. I always wonder what age is the cut off for male offspring. The second day, I hired a local female guide, Heba, a lovely 34 year old and we began our day by walking to Tahrir Square. Heba is getting a PhD in antiquities and has been a guide for years and it shows. She wore no head scarf and is the epitome of the confident and intellectual woman from a highly educated family. She had been very active in the struggle, raising and contributing money as well as out on the streets. At first she was a bit nervous to let me get close to the other young folks who were at the Square at 10am but soon was engaging with them as we spoke in English or they in Arabic. We met one man who had been quite injured and she told me that perhaps thousands had been injured, especially losing eyes in the fighting over the last year. 

Tahrir Square was filled with tents, similar to most of the Occupy occupations all over this country and with the same population holding it down--the young, the homeless, the dirty, the dispossessed. Later that night I would weep with Mohammed, my hotel clerk as I watched the live feed from Tahrir Square where two folks had been killed. I recalled the smiling and seemingly relaxed activists I had met earlier that day who flashed me the peace sign when I said I came from Occupy Oakland.  Could it have been any of them? As he cursed the military, I could only respond that, "Freedom is a long road," not really reassuring either of us of much.

The Egyptian Museum is just blocks from the Square as well as the Omar Makram Mosque where lots of activists from Tahrir, along with the faithful came to pray. There is a great piece in the New Yorker that I came home to on the mosque, and Heba pointed it out as we walked by, along with some graffiti. We spent 2 hours at the Egyptian Museum with its vast riches, the most famous being King Tut's 4 gold sarcophagi placed one inside another like the Russian dolls, as well as his funerary mask. Her knowledge was encyclopedic and my fuzzy jet lagged brain, somewhat anemic. But I was trying hard to hold onto every concept and explanation as I knew it would serve me well. The staggering sophistication of this civilization was the overwhelming take home message.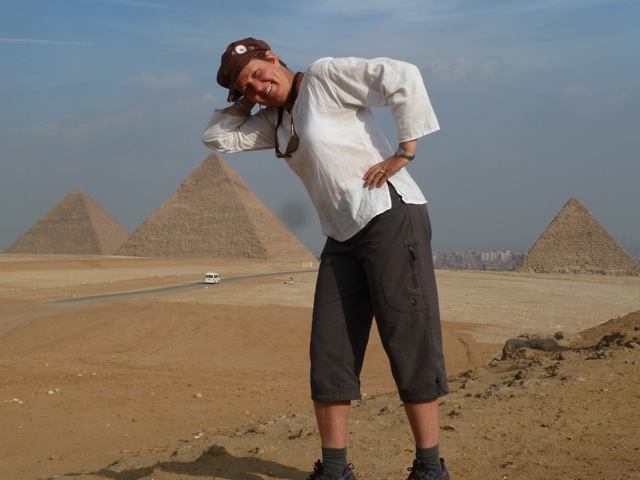 Next up was crossing the Nile with its mounds of plastic bags and debris to enter the city of Giza and the most celebrated of all the sights. When I looked at the panorama of the Sphinx with the 3 Pyramids of Giza I experienced a rush of emotions that must touch every heart and mind through the ages--humility mostly but a nagging voice as constant as the waters of the Nile--think bigger, act bolder, death comes sooner that you can imagine possible. Later I started my love affair with "karkaday," the delicious ubiquitous hibiscus tea, served either hot or cold.

Oldest Desert Oasis/Upper Egypt
I stayed at a desolate desert oasis resort with spectacular views of cliffs with sand dunes. The morning and evening light was glorious as I began my birthday by greeting the dawn, then walked through a vast wilderness of sand and shale with its paw prints of desert fox. I took the fact that I saw one right at dawn staring back at me as a good omen for my 53rd year on Planet Earth. My driver and new friend Khaled and I spent the day visiting the 19th century remains of Al Qasr, the oldest desert oasis in Egypt with its mud brick warren of houses, mosque, minaret, jail and madrasa. Next we headed to Magical Spring, a local hot spring with champagne like bubbles that rise from its depths followed by an expensive lunch at the 5 star resort nearby. Khaled drove  us back 6 hours due east to Luxor through maybe 10 checkpoints where the men dutifully asked him for his cell phone and my nationality. There seems to be no way for a tourist to get lost in the sand dunes here, even if she wanted to.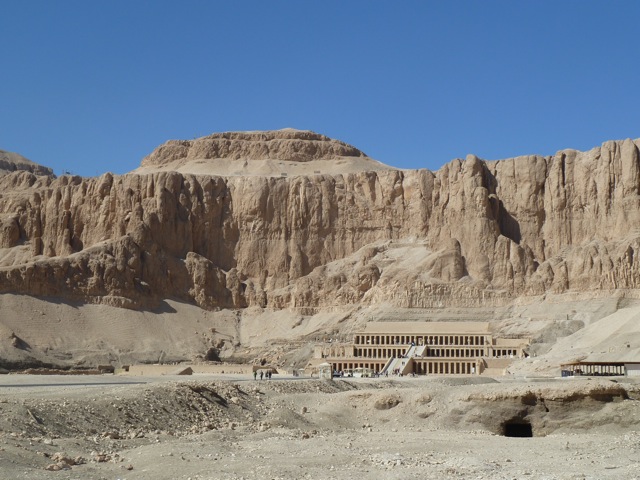 After 3 days in Cairo, I flew to Upper Egypt, the city of Aswan where Nasser built the High Dam in 1970 paid for by nationalizing the Suez Canal and with help from the Ruskies. The flight down was incredible as it followed the Nile, a snake of blue surrounded by a narrow strip of green, then the expanse of dry brown desert as far as the horizon. According to Khaled, only 10% of Egypt's land is inhabited. I stayed at an adorable little guest house there called Beit-el-Karim (house of hospitality) where I was the only guest for the first 2 nights. The owners are a Dutch-Egyptian pair who came back from the Netherlands while I was there for their annual holiday. The guest house is located along the Nile in a Nubian village. As much as I can ascertain, Nubians controlled much of present day Sudan in ancient times and they tend to have much more Negroid features than other Egyptians. When the High dam was built for hydroelectric power and to control flooding of the Nile to prevent famine, the Nubians were the big losers. Like millions of Chinese and Indians, some of their villages were relocated to uninhabitable areas in the nearby desert.  

The present day Nubians that I met have a reputation for their culture of song and dance and for being major weed smokers. I immediately became close to Basam, who works at the guesthouse, a delightful 24 year old who speaks good English and doesn't smoke much, a rarity among men here. We played ping pong with the other workers and I had an excellent morning of bird watching with the "Birdman of Aswan." After a couple of days I went on a two day felucca trip (their version of a sailboat) with its battered cotton sail sown up in various stitching. We had a delightful experience with Captain Mido, a kind soul who attended to all my needs, bringing me shai (tea) as I sang songs to greet the day. Basam played the frame drum and we traded Nubian songs for old folk songs I was glad I had learned by heart.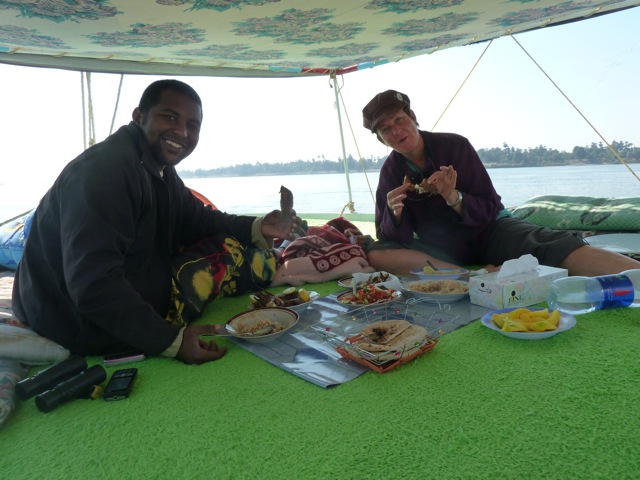 Along the way we ate fish caught that day and watched life along the mighty Nile, much unchanged for the last 2000 years. Boys herded their goats and cows while shorebirds and the ever present pied kingfisher plunged for fish. We landed at a phenomenal Temple to Sobek (crocodile god) and Haroeris (Horus the Elder) at Kom Ombo, standing on a promontory at a deep bend in the river. The temple was one of my favorites so far, because of its dramatic location but also because I was about the only tourist. One of the keepers motioned for me to bolt into one of the locked crypts in the back which he surreptitiously unlocked and  showed me amazing painted reliefs that included one of the Cleopatras. I felt like a tomb robber when he motioned for me to stay quiet while some of his co-workers passed nearby. Once out in the sun again,  I pantomimed myself being shackled and thrown in the Nile, and he laughed heartily. Then he showed me the deep hole in the temple grounds where crocodiles used to be brought up from the places where they used to bask in the sun on the riverbank. There are no crocodiles here now but I "petted" some baby ones near Aswan that had been captured for photos with tourists before being released back into the river.  

But before the felucca trip, I took the bus to and from Abu Simbel, the much photographed site of the colossal Ramses II Temple that was literally moved piece by piece to the tune of something like 40 million dollars (UNESCO) to higher ground when the High Dam was being built. The dramatic sound and light show with the Nile as the backdrop and the dark sky moved me completely. Viewing all these temples and tombs, I find myself asking three questions over and over like a mantra. The first is "How did they build that?" followed by "When did they build that" and "Why did they built that?" The last one seems easiest to fathom, at least for me. The pharaohs were trying to achieve immortal life or at least have everyone who crossed their way be in awe of their power and dominion. But to build a colossus that was covered in sand for maybe 2000 years and only rediscovered after centuries in the 1800's?? Really that is some ego, fear or plain commitment. And being covered in sand seems completely predictable after the last two days here in the desert. To stake out a patch of green, to plant a palm tree or build anything in this shifting environment is an act of sheer will.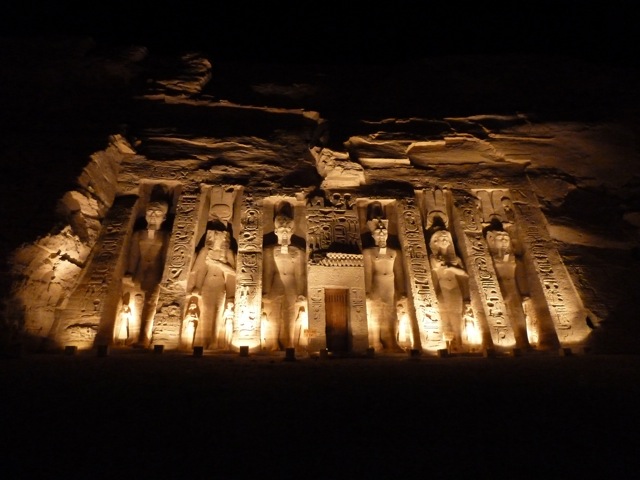 I have seen lots of pyramids and tombs, principally in Mexico and Peru. Last year (see my travelogue on that) I spent days visiting the huacas (tombs) and mummies of Peruvian "kings and queens." The similarities are striking--lots of unbelievable coordination of a public works program over decades, possibly to rival the Great Wall of China or transcontinental railroad. The tombs are similar in the way they can be interpreted to understand the life of the rulers, considered semi-divine and the opulence of the everyday wealth that was essential to get them safely to the next life. What I find riveting are the controversies and new interpretations that are constantly being revised with each new big dig or discovery. While my friends would agree that I would never have the persistence and focus needed to be an archeologist, I can allow myself to get caught up in the romantic fever of the field.  

I stayed at a regrettable hotel in Edfu before visiting its Temple to Horus, the falcon headed god, then took a microbus to Luxor, home to 20% of the antiquities in the world. I had planned to stay in Luxor for 3-4 days but landed in a friendly guesthouse called Gezira (guesthouse) and became friends with some of the staff, especially Khaled who became my driver and escort for the last week. An Aussie named Vincent who has come to Egypt 47 times, beginning at the age of 19 was also helpful in taking me around for a day. He invited me to share a bottle of expensive champagne he had brought from Australia plus Christmas dinner at a nearby restaurant. Our guest house also organized a Christmas Eve party where I heard some great traditional music plus a decent male belly dancer.  

A word on the hassle factor of Egyptian men. Anytime I am without a male at my side, I am constantly asked if I want a taxi, a felucca and where I am from, am I married, where am I going, do I have a pen etc. I have had my hand kissed, been followed into my hotel and had the manager at one of the upscale guest houses knock on my door for no apparent reason, other than the fact that I was alone. I have also been asked (and agreed to this before I realized what was being asked) to pose singly with young Egyptian men for a photo, four in a row. I have enjoyed numerous invitations to tea,  mostly by children. Part of the explanation is that Egyptians are a friendly, curious people but most of the men are of course trying to make a living by hustling and hassling. I have ably learned about 15 words in Arabic with the words for "leave me alone-mem she" used as frequently as those for "how much" and "too much." Apparently, quite a few European women come looking for sex with younger men, and if that's what you're after it seems easy to find as many of the young men are quite attractive and obviously attentive. As always, I've found it much harder to meet women, especially any who can speak decent English. Almost all the women here are wearing the "ha-jab" and more often than I care to see it, the burka. But the younger ones crack me up by covering their bodies but then occasionally adding a provocative belt low slung on their hips. This has to be the most sexually repressive country I've ever visited. Women are expected to remain virgins until marriage and there is no way to stay at a guesthouse unless you are married. Gays and lesbians are here (surprise) and I did see one pretty out lesbian couple on a plane trip, but otherwise the queer movement is way underground from what I could surmise, even in Cairo.   

In Luxor, I visited all the important sites including the Valley of the Kings where King Tut's tomb and mummy are one of the biggest attractions as well as tombs by many of the Ramses pharaohs as well. The Theban hills where the pharaohs hoped to hide their tombs from robbers are dry and dusty but close to the Nile. Live digs are going on everywhere in the West Bank area and once the Sphinxes from Karmak to the Luxor temple are restored and open, Luxor will be even more magnificent than it is.  

Dahab and the Sinai Peninsula
I decided to fly from Luxor to Sham-el-Sheik, avoiding the 20 hour numbing bus trip while knowing that I contributed significantly to global warming and promising myself I WOULD take the bus back from Dahab to Cairo, a decision I came to possibly regret. I ended up spending a week in Dahab, a laid back town on the Gulf of Aqaba for diving, snorkeling and the beach bum life. All of my Israeli friends speak wistfully about Dahab, as it was "occupied" by Israel from 1973-1982 and it's a place that suits my sensibilities of what makes a great beach town--good and cheap accommodations, excellent international food, great snorkeling and warm (enough) water. Plus a vibe of young tattooed singles and couples with kids who hang in their swimsuits all day drinking tea and beer, older folks like moi staying at moderate guesthouses or hotels searching for the sun and carefree life of their youthful travels. Then mix in the hawkers, the hustlers, the charming older man named Aladdin (I kid you not) who owned the dusty bookshop/internet locale I frequented and the occasional Bedouin playing live music and it's a tossup with Goa or Ko Samui for which is tops. I kept thinking I SHOULD leave and do more sightseeing, like climb Mt Sinai or possibly even get back to Cairo early and take the train to Alexandria. Somehow I kept waking up in my lovely sunlit room with no incentive to move on. I did have 3 days of activities, the first being to snorkel at the "Blue Hole", a gorgeous site where I watched divers plunge into the "hole" and quickly disappear, while I hoped they would return unscathed. My favorite day perhaps was one where I set out early with a van loaded with 8 of us international types to hike a deep canyon in the dry sandstone with a Bedouin for our guide. The driver of the land rover enjoyed scaring the bejesus out of us as he aggressively went up and over a sand dune at I'd say a 45 degree angle. The Canadian woman at my side turned a ghastly white and a certain scene from The English Patient flitted across my mind, but I managed to smile and laugh after it was clear I had in fact lived to tell the tale and my photos would not be examined posthumously.  We had a lunch of beans, rice and fruit on the sun dappled carpets among the sounds of camels and goats at a Bedouin community and saw the precious water source that has sustained this village for the last 200-300 years. Another day, I took a yacht out of Sharm-el-Sheik with 30 other folks to snorkel in the waters of Ras Mohammed park, but I despised the overbuilt opulence of Sharm-el-Sheik with a visceral reaction, much as I detest its Mexican counterpart, Cancun. I couldn't wait to enjoy the sunset and dinner at my now adopted home of Dahab where in my ocean front room, I cracked the balcony door to hear the waves lull me to sleep.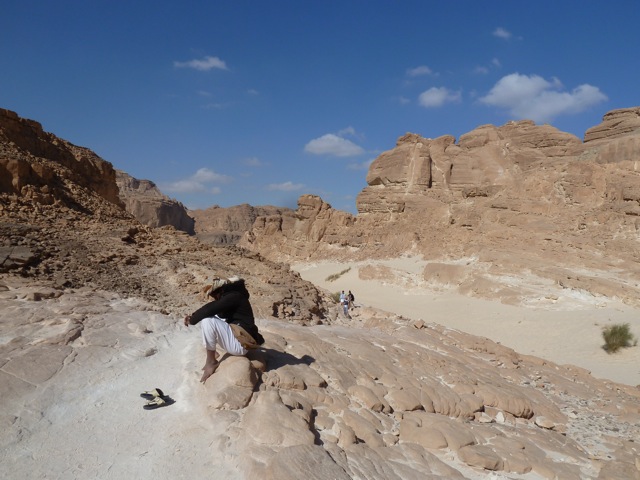 For the last three days, I spent most of time by myself and with myself, letting my mind wander over any place or person of the last 53 years. It settled on dreaming (during sleep) about my mother twice, something I haven't remembered in my sleep for most of a year, plus day dreaming scenes from my travels around the world, both wonderful and challenging. I consciously try every year while traveling to give this gift to myself--a time of deep reflection, uncovering the past and plotting for the future with no real agenda. I read with interest Pico Iyer's essay in the New York Times, The Joy of Quiet, I also snorkeled everyday and found myself going farther out on the reef and staying in the water for longer each day. The clearness of the water and the incredible number and variety of fish and coral enchanted me, especially the coral with the quality of a young girl's flowing head of hair, rising and falling with the tide. The only drawback to vacationing in Northern Africa/Asia this time of year is that the sun starts sinking down around 5pm and by 7pm, I had to be in jeans and a wool sweater. 

I started looking forward to the heat of Kenya and made my way back to Cairo by bus up the Sinai peninsula, across the Suez Canal which was quite anti-climatic as we couldn't see the canal at all, only the young armed soldiers every 50 yards who were guarding it. I mentioned previously that I came to possibly regret taking the 9 hour bus ride instead of flying, mostly as I have become somewhat uncomfortable and impatient on long bus rides, even with my ipod and a good book. For one thing, in my travels of the last 5 years, most long distance buses are equipped with horribly violent or sexual movies and sound systems which have speakers placed above every seat. The days of quiet long bus rides seem to be a relic of the past. And I had brought no food to speak of so the stop for tea and snacks was not enough to tide me over. My stomach was grumbling. And then there was the young man who was throwing up just behind my seat as we pulled into Cairo. But I could congratulate myself on the $120 I must have saved, plus reducing my carbon footprint. My last day in Cairo, I walked back past Tahrir Square which was very much more deserted than in December, toured the Egyptian Museum once more now that I had more context for its treasures and ate at the Citadel View restaurant in the only public park and large swath of green in the megalopolis of Cairo.

Return to Kenya
The next morning found me at Machusla in Nairobi, my favorite guesthouse in the world, delighting to the sounds of the Kenyan birds, especially the cordon blue, bringing back a flood of memories. The last time I had been here was in 2008, right as the tragic killings between various tribes began as Kibeki won the Presidential elections but perhaps unfairly, then was forced to share power with Odinga, now considered a strong candidate in the 2012 elections. I had cut my trip short by a week, shaken by the violent possibility that came to pass, especially close to my heart as I had visited the slum of Kibera with a delegation from La Peña that I had led to the World Social Forum in a previous trip.  Over the next week, the International Criminal Court (ICC) judges confirmed charges against four of six prominent Kenyans for alleged crimes committed in Kenya during the post election violence of 2007 and 2008. The decision means that they may be forced to stand trial, even though they will appeal the decision and two of them may even try and run for President.

I went on a 4 day safari to the world famous Masai Mara, seeing a cheetah on a chase of impala, a leopard and the likely species of elephants, silver backed jackals, hippos, herds of Cape buffalo, zebra, giraffes etc. My favorite birds such as lilac breasted rollers,  bare-faced go away bird, superb starlings, black crowned cranes various eagles and herons and goshawks seemed to be as plentiful as my last time there. I had never been to the Mara river where the mass migrations occur from July-Nov so I enjoyed imagining what it could possibly be like, as a few Nile crocodile were on the banks and hippos were sleeping as they took a breath and then went underwater for what seemed like an eternity.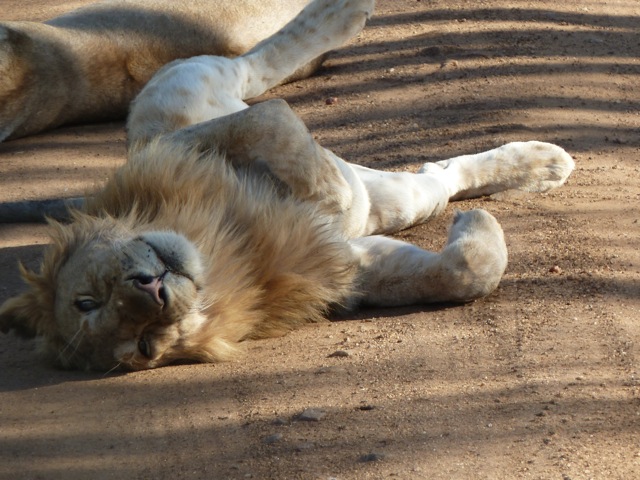 I returned to Macushla for a night and met my buddy Joseph to take off for a week safari, 4 days of camping in Tsavo West and East and 4 days on the coast in Malindi. The campsites have flush toilets and showers so they can't really be considered "primitive" but this is the no-frills camping that separates the rugged from the merely fair weather camper. The ground is hard, you must bring all your own cooking supplies, break down and reset the camp daily because of the damage the baboons will do if left unattended. There are no redwood picnic tables and cushy camping chairs to pamper your 50 something back after a day of riding across rough dirt roads. Joseph did a great job cooking as I listened to the tree hyraxes (a mammal that has a distinctive eerie call) and watched the stars come out. The first night I began hearing hyenas while Joseph went to take a shower. I admit a combination of excitement mixed with a bit of an adrenaline rush as they seemed quite close. Later on a Cape buffalo was munching grass very close by and the next day Joseph mentioned that he heard the stomach grumbling of elephants as they passed by during the night. Over the next three days we saw two new species of birds, the Lanner falcon and golden-breasted starling , a spectacularly colored starling that made me very happy to be near the equator.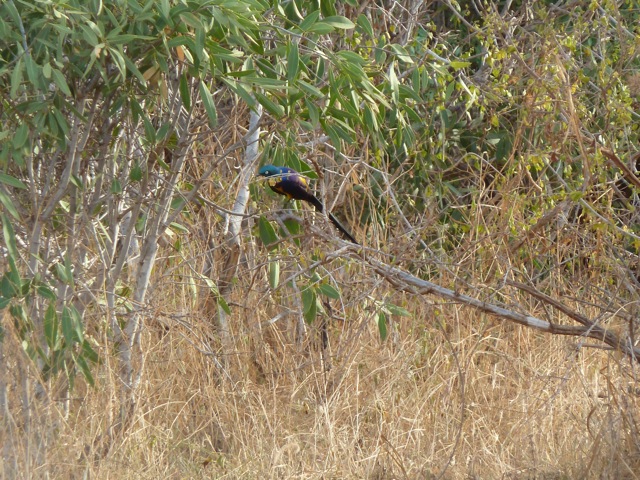 There were also very large herds of elephants, maybe numbering 150 with new babies suckling, a Somali ostrich mixed in with the usual sort, mongooses, a savannah monitor lizard, many red hornbills, buffalo weavers and a view of the snows of Mt Kilimanjaro. I was happy to be away from the oppressiveness of a Muslim country. I realized how much it had depressed me when we arrived at the gates of Tsavo East Park and the park ranger was a gorgeous woman in her camouflaged fatigues carrying a very large gun. I pantomimed taking a photo and she smiled and pretty much strutted and posed like a bird in mating plumage but Joseph (ever the official guide) told me, "It's not allowed." I still wish I'd taken the shot--I'm such a rebel, both at home and abroad. I'd be a terrible Muslim or even Christian, for that matter.

The next four days in Malindi were quite a relaxed and comfortable retreat as we stayed at a lovely Italian guesthouse, complete with gourmet ravioli, pizza and grilled tuna, plus the usual fresh passionfruit juices, mangos and the sweetest pineapple that the region is known for. Malindi really is a Little Italy with mobs of Italian tourists and many Italian owned guesthouses, restaurants and even car garages. I would greet other guest with "buon giorno" as often as "jambo" or "good morning" and Joseph was the only Kenyan on a day long boat cruise to swim and snorkel. I took walks on the beach and read, enjoying the perfect temperatures and ocean breezes. California was calling me home.

***Not even a parliamentary majority can guarantee singularity. Egypt is blessed with hundreds of elites, sets of socio-political networks, plural forms of political Islam, political and apolitical, media outlets, high cadres with massive training and experience in international organizations, business elites, a massive film production, sects, Sufi orders, two religions, regions, and powerful military and police bureaucracies, and last but not least, a huge expatriate community all over the world.

The contests will be fierce, plural and continuous in a context of freedom and entirely lax security situation, owing to a quasi-withdrawal of all controls by formerly intrusive apparatuses that penetrated all aspects of society. Egypt's pluralism which potentially is its bulwark against the return to singularity is thus its blessing. Dr Larbi Sadiki is a Senior Lecturer in Middle East Politics at the University of Exeter, and author of Arab Democratization: Elections without Democracy (Oxford University Press, 2009), The Search for Arab Democracy: Discourses and Counter-Discourses (Columbia University Press, 2004) and forthcoming Hamas and the Political Process (2012).