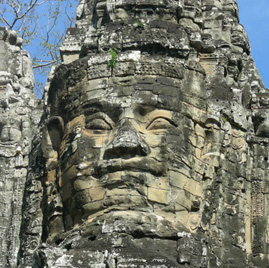 Karen's Perspective on Traveling Alone






















We travel for pleasure, for a door-slamming sense of "I'm outta here," for a change of air, for edification, for the big vulgar boast of being distant, for the possibility of being transformed, for the voyeuristic romance of gawping at the exotic.
Paul Theroux, New York Times, 2013

Mexico City
A friend Jana Valentova that I met a few years back in Ecuador and I started our trip in Mexico City, called variously "Mexico" or DF by staying at the Hotel Milan, a fine budget hotel in the Roma District, that has an active street life, complete with the street food, nut, fruit and paper sellers that make Mexico so lively and vibrant. On my first afternoon, I went to buy a dollar's worth of mixed nuts and the seller offered a large chunk of sharp Oaxacan cheese. We spent a long but fascinating museum day, starting with the mother of all museums, The Museum of Anthropology, that is the crown jewel of all museums in Latin America. I had been here twice before but again was overwhlemed by the variety of the treasures here, from delicate jade jewelry in the shape of an ibis to the magnificent headdress of quetzal feathers. Of course the famous Aztec calendar is notable even though it is a reproduction as the original is in Europe, especially as we would be spending December 21st in Palenque, supposedly the end of one time period of the Mayan calendar. Several of the rooms have recreations of archeological scenes: murals in the Teotihuacan exhibit and tombs in the Oaxaca and Maya rooms. This gives the chance to see the pieces in the context in which they were found. I was disappointed that only one of the monumental Olmec heads from the Yucatan was on display as the others are on tour but even that one was enough to ponder whether its creators had any idea of its permanence. We also visited a new art museum funded by the richest man in the world, Carlos Slim, called Soumaya with its ultra modern architecture that shimmers (reminding me somewhat of the new DeYoung exterior in San Francisco). The top floor houses a lot of exceptional modern sculpture including lots by Rodin. But it was the terrific oddities, especially the woman headed giraffe by Dali made us laugh out loud. We ended the day in the cool blue of Casa Azul, Frida Kahlo's house where I admit, the conjuring of Frida as Salma Hayek was hard to banish. I have always enjoyed visiting the homes of artists, politicians and people I admire--I presume because seeing where someone lived, loved and worked explains so much more about who they were and what they experienced in life. Visiting the John Muir house in Martinez is a pilgrimage site for me and Casa Azul's appeal was of course the iconic paintings on display but just as much the almost voyeuristic notion of seeing Kahlo's studio, the places where she and Diego must have had heated arguments and perhaps most poignantly, the contraptions on display that were like corsets for her fragile back and pelvis.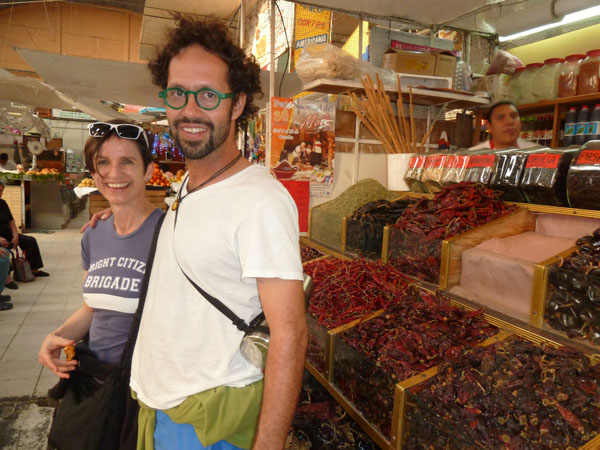 I was excited to time our experience of DF with the Sunday Streets or Ciclovia where DF closes down the Paseo de la Reforma to cars. Even though it wasn't the enormous closure that occurs on the last Sunday of the month, we enjoyed renting the free one speed cruisers along with families and some folks running in Santa Claus suits. Later that day, we met up with Mauricio, a Mexican friend who had stayed at my house when he was doing a Breema massge intensive. If possible, I always try to hook up with a local in a big city as only they know the truly best local spots to explore. Mauricio was no exception and shepharded us throught the Mercado Medellin, stopping to sample what he called the best ice cream in the city made by a Cubano and then to try the chicharrones plus some amazing barbecued pork handed out by a local butcher who insisted we give it a try. Next we found the local dance club, La Embajada Jarocha, where a live danzon and salsa band was serving up great dance songs for the mostly older crowd while we ate a Christmas speciality.

At the end of the trip Jana and I spent another night and day together, luxuriating in our favorite sushi restaurant Mog and having our by now friend and taxi driver Jose Luis take us out to Xochimilco "place where flowers grow", originally founded on an island in Lago de Xochimilco in 919 BC. It was our chance to have a glimpse of the prehispanic DF when canals were everywhere in the valley surrounded by snow covered volcanos. Jose Luis negotiated the price and we had a relaxing time of watching our boatman push the colorful boat with a long pole while an excellent marimba duo serenaded us with classics like Cielito Lindo and Guantanamera. If I ever come back to Xochimilco, I'll have to take the small boat on a 4 hour cruise to do some serious birdwatching.

Chiapas-in search of Subcommandante Marcos
For many folks, myself included, Chiapas is synonymous with the armed uprising that broke out in 1994 and the movement's charismatic intellectual Subcommandte Marcos. But if Marcos was around, most folks I spoke with had no idea if he was in or outside the country and most seemed not to care. One of the ingineous men I spoke with vehemently said " Marcos, where was he when many of us died in Ocosingo? He ordered the boys to revolt but he wasn't there." Many of the indigenous community never supported the Zapatistas and consider them troublemakers. But while we were in Palenque on Dec 21st, thousands of folks in Chiapas rallied in the larger cities including Palenque, Ocosingo and San Cristobal. And security is still pretty high. On one of my longer bus rides in southern Chiapas near the Guatemalan border, the police came on board at least 3 times with a brief and not very thorough search of the passengers, looking for drugs or Zapatistas, I'm not certain.

After flying from DF, Jana and I traveled by bus from Tuxtla Gutierrez to San Cristobal, a pretty colonial town set in a fairly high elevation. My guidebook noted that the indigenous presence here is greater than any other Mexican city. San Cristobal feels somewhat artsy fartsy with lots of foreign tourists. On the recommendation of Mauricio, we stayed at the edge of town in Cabañas Mirador Moxviquil, a tranquil guesthouse that borders the forest where I did some birdwatching and saw my first trogon of the trip. Mornings and nights were chilly with a dense fog and the indigenous women wore black wool skirts, either made from the goats they herded or a machine made version--a riddle we never asked about and solved. We took a delightful day trip to Cañon de Sumidero where we took a small motorboat to see the extensive canyon whose sheer limestone walls rise more than 1/2 mile up. I noted osprey perched in the trees and we were lucky enough to see 2 "cocodrilos" up close and personal, perhaps almost too close as the size of the teeth in the open mouth were a bit scary, even for a wildlife observer like myself who has seen a lot over the years. We also had our first sighting of spider monkeys whose antics always amuse. Our favorite snack in the markets of San Cristobol was a large piece of jicama on a stick, dipped in chili sauce and then sprinkled with a chosen juice such as mango.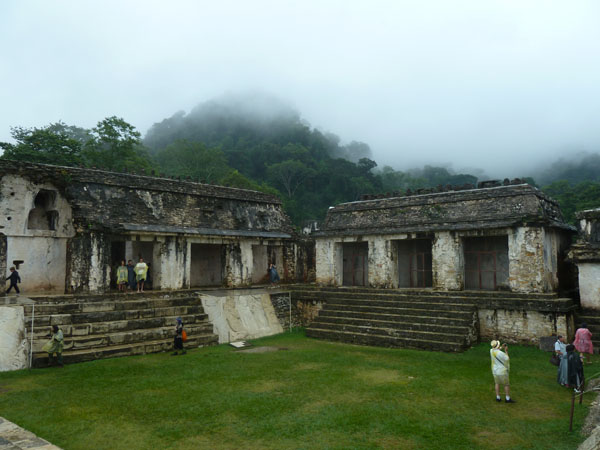 Palenque and the End of the World
The following day we tried and failed to get an earlier bus ride to Palenque as everyone and their brother was going to Palenque to celebrate the winter solstice and the "end of the world" according to the Mayan calendar, of course, just the ending of one Mayan time period before starting another. I did hope in fact for a certain kind of end to the world, the one where capitalism and patriarchy have full reign but alas, that kind of world seems to roll right along, world without end. We ended up getting on the late afternoon bus in the last two seats available which meant that we were "in the back of the bus" and I never had really known what that saying implied, but after 7 hours of being bounced and lurched from side to side as the bus rose and fell along the steep mountainous routes we were ever so grateful to arrive in Palenque. We celebrated by having a late night dinner at Don Mucho, a terrific outdoor joint where over a hundred folks had joined in the moist and heavy jungle air to eat, drink, smoke and dance to a wonderful Latin fusion band with Andean panpipes and even a Cuban tres. As we relaxed, the hellish corkscrew bus ride fading from our thoughts, we heard rain begin to fall, heavier and heavier. But the rain couldn't dampen the high we and the crowd were feeling, especially as the fire arts show began, with nimble and lovely scantily clad youngsters dancing with a controlled exuberance with a live percussion group backing them up. After midnight we caught a taxi back to our retreat lodge, only a few miles from the entrance to the classical Mayan site of Palenque. December 21st had arrived and we were up fairly early with our umbrellas in hand, finding a guide Fabian who would give us a tour in Spanish. Fabian was well-dressed and well-spoken, with a professorial air and seemingly endless knowledge of this, perhaps the most famous site of the ancient Mayan world. The only problem was that it was raining and raining hard. Chaac Mol, the god of rain, thought it might be ironic to rain on that end of the world day, just as he had no doubt rained on the day of creation and for many days since, as this is a jungle after all. But Fabian couldn't be bothered with a flimsy rain poncho which the ill-prepared gringos were snatching up, much less an umbrella. Instead we deposited his cell phone in my, as yet, dry butt pack while rivulets of water poured down his face. I tried my best to concentrate on his words, with his description of Palenque and the most famous and important ruler, Pakal. But it was comical, until we took refuge in the palace, a large and complex structure built over 400 years, but still retaining a graceful integration of design and detail. The iconic tower may have served as a watchtower but seems likely to have been built to make astronomical calculations, an important part of Mayan (and should I add Incan and Egyptian) religious rites. Hippies, perhaps some of the thousands who had camped outside the town as part of the Rainbow Gathering, were dancing and intoning and we overheard one Norwegian woman remark that the rain was just part of a great "cosmic wash," while Jana and I snickered. Later our hotel hosted a reenactment of the "juego de pelota" where Mayan men in traditional garb sang, drummed and tried to knock a heavy (clay?) ball through a narrow hoop with their padded forearms, probably much like their ancestors did in the lawn retained for that purpose in Palenque. The next morning I returned early to walk the grounds again, enjoying the dry and calm day, looking for birds and being rewarded with a trogon sighting as well as the unmistakable sound of a howler monkey, a sound which starts off something like a rumble in a stomach but ends up evoking a barking dog.

Circuit Around Chiapas
Jana and I joined up with a group of Europeans for a two day trip to visit the Classic Mayan sites of Yaxchilán and Bonampak. The Yaxchilán ruins lie on the banks of the Rio Usumacinta, the largest river in Mexico and the border between it and Guatemala. We took a 45 minute cruise up the river to where the impressive ruins overlook the lush green site. One might expect to get "ruin fatigue" in this part of the world but the sites, design and layout are so different that that is rarely a problem. The rulers here were part of the Jaguar dynasty and the greatest ruler dedicated a temple to his wife, the only Mayan temple that we know built specifically to honor a woman. Here was my first sighting of the bat falcon, before we took in the modest site of Bonampak, known though for its damaged but still very impressive mural scenes that depict sacrifices, ritual blood letting and violent battle scenes. The images shattered previous assumptions that the Mayans were a peaceful people, in contrast to the Aztecs for instance.

We spent the night in a very rustic enclave of cabins with mine perched above a fast moving river. For the first time in a week, I didn't need to use my earplugs to block out the sound of traffic, shouts, children and more annoying, dogs and roosters. Even though I had to ask repeatedly to get 2 blankets and the mattress was old and thin, I slept soundly to the roar of the river. The next day we took a walk through the dense Lacandon jungle and I managed to go ahead of the group I was with, mainly since I wanted to try and spot birds and enjoy the quiet of the dense jungle. Huge ceiba trees and probably dozens of other species formed the dark and dense canopy. I walked along the obvious trail until I came to a stunning waterfall, then found out from the guard there that the group I was with would have made another turn to take in some ruins so I decided it was time to retrace my steps and break out on my own for Guacamayas, the lauded eco retreat named for the scarlet macaws it preserves. There was no cell phone service in the area so I was taking my chances that there would be a room ready and waiting. It was the afternoon of Christmas Eve and I decided that if Jesus could find room at the "inn" I would also try my luck. After taking two "combis" or vans and a taxi the last 10 miles from Pico del Oro, I arrived to find my kind of heaven, a prosperous community with an ecotourism project that blends into the landscape, with simple and comfortable rooms. I lucked out and was able to rent a "community" room with 3 beds that was mine, all mine for 3 nights. The project was organized by the local indigenous community with help from the government and its success bodes well for more projects like it all over the world. It reminded me of the Sani Lodge, the ecotourism lodge where Jana and I originally met in Ecuador.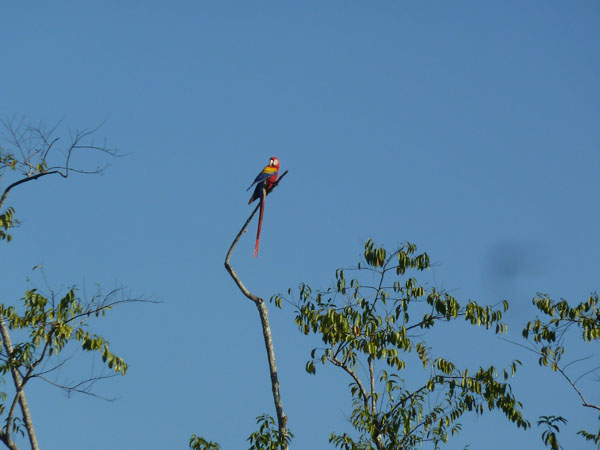 Spotting the Scarlet Macaws
As I suspected it would be, my time at Guacamayas was my favorite of the trip. I went on two guided walks, the first around the small village, visiting the macaw aviary where 5 of the birds are in captivity, holding them until they reproduce and then raising the chick before their release. This breeding program is what has insured the population from extinction, now numbering around 200. On the first walk my guide and I saw 2 macaws in the wild, looking at their potential nesting site. They have to agree to the nest since these birds pair for life and when one dies, they don't take another mate. After the macaws checked out their nest, they flew to a nearby tree where I got a good photo of them with the morning sun on their rainbow of feathers. I felt exuberant, especially since we had climbed through a barbed wire fence to get the closeup look. Suddenly my guide was calling to me to try and see the keel billed toucan, the largest of two toucan species I saw that day. Excellent bird spotting and it was only 8am! A few hours later, I joined 4 Spaniards and our guide Tomas for a jungle walk where the highlights included tapir and jaguar tracks plus the deep claw marks of a jaguar in a low tree where it had sharpened its claws. Tomas made sure we weren't talking unnecessarily on the 2 hour hike and I was delighted with the quiet and pace. The next day I had the great idea for Tomas and I to kayak from the reserve down the wide Lacantún river to Pico del Oro and have a truck pick us up. For more than 4 hours, we paddled and drifted, seeing at least 20 species, including the reclusive boat billed heron, a king vulture, zone tailed hawk, the amazon and ringed kingfisher, one of which was batting a crab against a tree branch for its breakfast. Dozens of osprey flew overhead, so close I could see their mighty talons with my naked eye. The journey was pristine with the Montes Azules biosphere on the other side of the river, protected from any commercial interests or even zealous birdwatchers. I felt a deep calm and appreciation for all the work that had gone into establishing the eco reserve and making sure that it is sustainable. Later that night, I walked to the edge of the soccer field where Tomas told me the Moctezuma oropendolas gathered at dusk. They seemed to be getting out all their cries and squawking as they settled down in their roosts for the night. The moon showed it lovely face and I was, in a word, happy.

The Lake District and In Search of the Beach
My next journey was through the mountains of the lake region and if I hadn't had to go to Comitan to get more money (as there wasn't a bank between Palenque and Comitan), I would have stopped off at Las Nubes, another remote and highly regarded cooperative in the Lake District. Instead I spent a day and night in the Bosque Azul, next to a lake, one of 50 in the region. I walked a few kilometers from the lake where my cabaña was, to a park that included a dramatic cenote, a deep fresh water hole, very reminiscent of ones I had seen in the Yucatan. Finding dinner meant walking to the the small fire braziers where women had set up their cooking area, next to the tourist parking lot where I enjoyed quesadillas with calabash flowers and mushrooms plus a dollop of thick black beans. That night it was back to cursing the accepted "noise pollution" of being in Mexico, where such things as "quiet hours" in a regional or national park would likely be scoffed at. I had fallen asleep at nine after inspecting the stars but now a nearby family was singing every Mexican folk song they knew and doing it off key. By ten they were through but I was awakened again at midnight by a young group of revelers near my lakefront view. I yelled at them from my balcony to knock it off which, surprisingly, they did. It was a cold morning with fog and I surprised myself by deciding to cut my time short at the lakes with the notion of getting to the beach as soon as possible. It was an all day trip on 4 different combis as the bus was sold out from Comitan to Tapachula but the incredible guest house called Casa Mexicana was the nicest of my entire stay in Mexico. Its artsy and luxurious (but not all that expensive $70) rooms were a welcome treat after a quick dip in their pool. One of the owners lived in Fl for 30 years and it was a relief to speak English after my 5 days of Spanish only. He tried calling around to see if he could find a hotel somewhere along the beach but since it was the middle of the Christmas holidays, I decided to take a 5 hour trip the next day to arrive in Boca del Cielo, (Mouth of the Sky), a funky, low-key beach which is essentially an island offshore. To get there I hooked up with the only gringos I had met for days, a young couple Rosie and Lee from London. We shared the cost of a short boat ride (the boat driver thinking they were my kids) and arrived just as the sun was setting on my birthday. I had scored a cabin complete with mosquito net at Eclipse and we hooked up the next day at La Luna, the palm shaded and best place to eat on the island. I spent New Year's Eve at La Luna with others at the delicious banquet but as there was no dancing, just more talking and drinking, I called it an early night and rose the next morning before dawn to walk the beach and pick up litter, a daily ritual I started years ago in India and do most places I stay or live. I spent most of the next few days reading, swimming (although not past the waves as there is a dangerous current) and beach combing before watching the sunset. I was relaxed, but on the edge of boredom, a state I only seem to get to on the beach for multiple days. I also gave daily English lessons to a couple of kids who were on vacation while their mom worked at Eclipse. A Mexican family adopted me for the day and I enjoyed drinking mojitos and discussing Mexican politics with them. Most Mexicans, with the exception of the businessman in the family, have only regret that Peña Nieto recently won the Mexican election and declare it was total fraud that allowed the PRI back in power.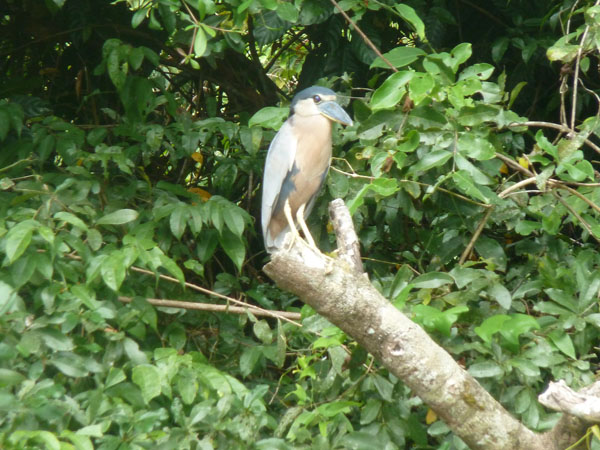 Beach Life at Madresal and Tuxtla Gutierrez
Tomas in Guacamayas had told me about the other cooperative called Madresal, named after a kind of mangrove, one of 4, just 15 miles east of Boca del Cielo. This cooperative is newer than Las Guacamayas and many Mexican families come for the day to enjoy the thatched restaurants and beaches as they are less treacherous than those of Boca del Cielo. Lee and Rosie followed me there and got a camping spot while I stayed in a cabaña. We rose early to take a morning boat ride down the lagoon and through the mangroves. As we entered the mysterious mangrove we switched to a canoe so that our guide could paddle us through the maze of branches, looking for cocodrilos underneath and around us, which we spotted. We occasionally dropped to the floor of the boat when we needed to make our way under a low lying branch, laughing at our limbo moves. We saw dozens of boat billed herons roosting in the trees, more kingfishers and white ibis. The next day, I took a bus to Tuxtla Gutierrez and had the combi driver stop so I could buy a mango on a stick from a woman selling out my window, cut beautifully into small bite size pieces. I enjoyed staying at Santa Maria Hotel along Parque La Marimba where a large live marimba band plays every night from 7-9pm. The locals, some dressed in traditional long dresses and masks, danced to the varied rhythms while everywhere families and singles mingled and chatted.

Cuernavaca and Xochicalco
I flew from Tuxtla Gutierrez to DF and then took a luxury bus to Cuernavaca, an hour and a half away, where lots of folks from DF spend weekends because of the mild climate. I stayed with Cleo, a lesbian and friend of friends here in Oakland. Cleo and her partner took me to hear a band playing Beatle songs and we laughed and sang along while I drank chocolate de abuela (Mexican hot chocolate) while they had the more traditional bar drinks of micheladas and mezcal. The highlight of my stay in Cuernavaca was the Museo de Robert Brady. He was gay gay gay and has an incredible collection of 1300 pieces of art in his house that was turned into a museum with an old tower that was once part of the adjoining cathedral grounds and served as a monestery. His exquisite tastes and ability as a painter in his own right are magnifico and the house was actually even more impressive to me that the Frida Kahlo house. Some of the work includes Kahlo and Rivera but it's the vastness and diversity of the collection that staggers. He was a major traveler (obviously a gringo, no?) and they say he died from cancer but I have to think it was AIDS as I can only imagine the poolside parties. I took a bus out to see the ruin of Xochicalco, where maybe 10,000 folks lived, perhaps Olmec, Maya and Toltec, although no one seems completely sure. The most unusual feature is a subterranean observatory-- a long vertical shaft dug by hand let full sunlight into the cave on only two days a year, when the angle of the of the sun was perfectly aligned with the shaft. The priests used these dates in May as a reference point to check the accuracy of their calendar.

Valle de Bravo and the Life and Death of Monarch Butterflies
Valle de Bravo, another weekend getaway for folks from DF, was attractive to me because of the monarch butterflies that winter here but I fell in love with this sweet ex-colonial town. It would be the place I could imagine living in, from all the places I had visited. The town rises above a huge reservoir with its quaint cobblestoned streets and its excellent bookstore whose woman owner even sold me a New Yorker. I stayed in a quiet (no earplugs!) hotel called Hotel Tonancalli and it's the only place I've ever stayed where the toiletries provided included a condom, this one supplied by Planned Parenthood International. I hired a taxi driver Mario to take me up to see the monarch butterflies where they migrate every year from Canada and the Eastern United States. The sun was out in Valle de Bravo but as we reached the forests where the butterflies had migrated it was cold and cloudy. Luckily an indigenous woman loaned me a sweater and I was soon warming up any way since the monarchs like steep hillsides with a southern exposure. Horses were for hire but I trudged up the steep 3 kilometers and was rewarded with a remarkable sight--literally millions of butterflies, looking like brown leaves in the fir trees. Because it was so cold, they were huddled together for warmth so I missed seeing their gorgeous orange color, except for the few that were dead or in the throes of dying near the ground. Death, even the seemingly small death of millions of individual butterflies, was so close to life here, the way that life and death are so intricately linked in the Mexican psyche. I had come to Mexico to learn better about how to live but also realized that maybe I had also learned something about how to die. I had reread Consider This Señora by Harriet Doerr on the trip (along with 4 other books) and its message of living life in a small Mexican village and the death of one of its main characters resonated deeply. I gazed again at the mass of butterflies, ready to return to Oakland where I would take up my life anew, energized by all I had seen and experienced.